How to Backup Or Upload Your Save Data
Jump to navigation
Jump to search
Locating Save Data
In order to upload your local save, you must use a 3rd party FTP client to log into your servers directory. ACCESS HERE
Below you will see a guide to locate your local save game
1. To locate your local save head into your appdata/locallow folder on your personal computer
2. This can by done by clicking the windows button in the lower left of your pc and typing %appdata%. Then hit enter and then going back one folder.
3. You can also open a file explorer window and paste this to get to the location.(Make sure to change the Username to your computers)

C:\Users\Username\AppData\LocalLow\Stunlock Studios\VRising\Saves\v1
4. Once in the app data v1 folder, continue until you find the AutoSave folder.
Upload Save Data
1. Head to your server control panel hit the stop button, locate your FTP login information, and log into your FTP.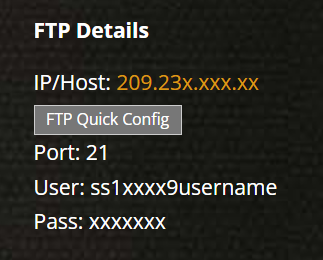 1-a. You can also click on the FTP Quick Config option shown in the image to open up your FTP client that is installed.
2. Once you are logged into your FTP client head into this directory.
/Saves/v1/WorldName
3. From here look at the changed time of the folders, and open the most recent folder.
4. Now in the %appdata% folder that was opened earlier. Locate your AutoSave data that you wish to upload.
5. Remove any data from within the servers AutoSave folder.
6. Copy all of the contents from within the local AutoSave folder into the most recent AutoSave on your server.
7. Your local data is now uploaded to the server. Simply hit start on the server to get the data running.
Backup Save Data
In order to backup your save data. You will need to log into your FTP client
1. On your panel hit the stop button for your server.

2. Once logged into your FTP client head into the Saves folder
3. You can backup all the data within the saves folder or go into the v1/worlds folder and pick one of the autosaves to backup.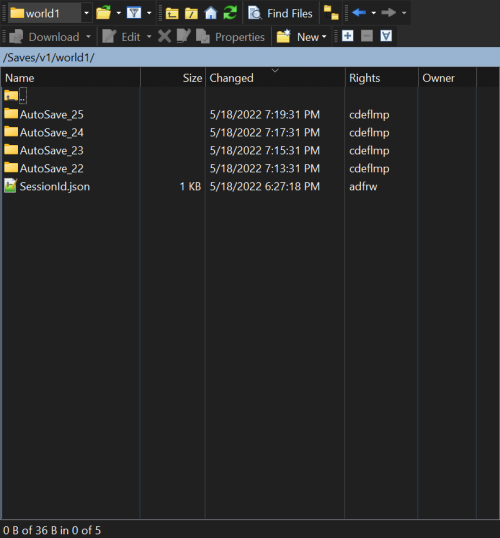 4. Your save data is now backed up.
---
Share your opinion